This online guide for studying the Bible is a companion resource to How to Study the Bible: A Practical Guide, by Mel Lawrenz, which covers topics like: how to choose a Bible, observe the facts, understand the flow of meaning of a biblical book, develop your biblical vocabulary, study a topic in the Bible, study a Bible passage, use the basic skills of Bible interpretation, apply the truths of Scripture to yourself, recognize false teaching, and more.
This guide describes the major Bible study tools: some for any Bible reader, some for Bible study leaders or teachers, and others for pastors. Links take you to resources, whether books, online tools, or other helps. (The descriptions are borrowed from the various publishers.)
Sign up to get occasional articles, prayers, and other resources from Mel Lawrenz and The Brook Network…
Caution: it is easy, when you have a Bible question, to just "google" it. You will definitely come up with some articles, but they may not be reliable. A bona fide, published Bible reference work is the way to go, whether you have the print copy in hand or access it through one of the main Bible software programs, or get the eBook version. We don't all need to be Bible scholars, but we need the expertise of Bible scholars who have access to all the latest archaeological finds, historical insights, and textual updates. In the English-speaking world, we have an enormous number of resources.
THE BASICS… If you could have just one book, a good choice would be a good study Bible. If you could have just two books, you might add a good one-volume Bible dictionary. And if you could have one more, a good choice would be a one-volume Bible commentary. (Examples below.)
At the bottom of this guide you'll see a section on online resources. Yes, it is good that we have online tools, but it is still good to have in your hands (literally) a few Bible study tools like a good study Bible or a reputable Bible dictionary. Using actual books prompts us to peruse and discover content as we flip through pages.
To study the Bible is to study God (the word study refers to devotion, concentration, and zeal). We need to have a zeal to grow in our comprehension of all parts of Scripture. In the same way that we can only understand our spouses or children or friends by understanding them as whole people, we will study Scripture best when we are peering intently at the whole.

En español – Cómo Entender La Biblia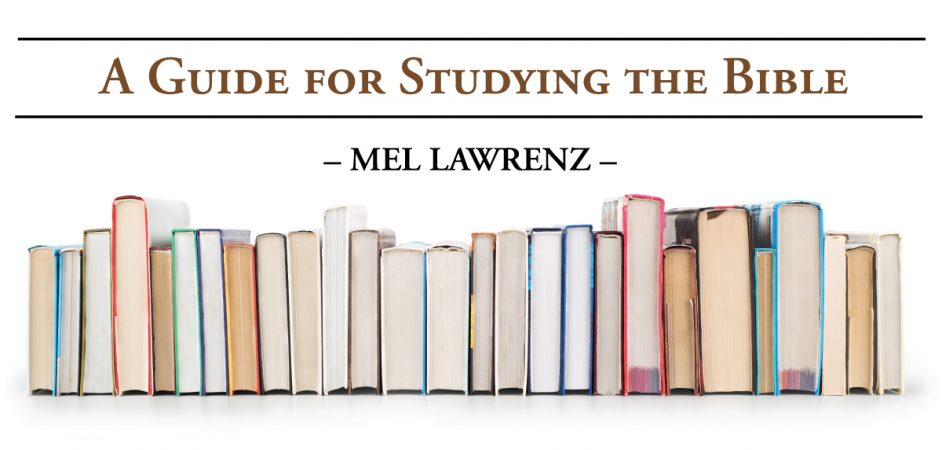 The Baker Illustrated Bible Handbook (ISBN 978-0801012969). Offers up-to-date evangelical biblical scholarship in a format that is readable and easy to understand. This book-by-book guide brings the Bible to life with more than 1,100 full-color pages packed with illustrations, maps, and photos, and 112 in-depth articles on a wide range of topics important to students of the Bible. Readers will discover how each part of the Bible fits into and informs every other part, giving them a cohesive understanding of God's Word. [MORE INFO]
Zondervan Handbook to the Bible (ISBN 9780310537946). From the history and design of the temple in Jerusalem to God's relationship with the universe, you'll find it here. The land, culture, battles, feast days, heroes, and villains of Scripture come alive through spectacular color-filled articles and images of meticulous clarity and detail. Special features include: a four color guide to all the books of the Bible, over 120 articles by an international team of experts, more than 700 color photographs, 68 maps and 20 charts. A key feature: "Rapid Fact-Finder to the Bible" section. [MORE INFO]

[See chapter 2, "Which Bible?" in How to Study the Bible: A Practical Guide]
Here are lists of some of the best study Bibles, and some of the most widely sold Bibles (in English) today.
STUDY BIBLES
NIV Study Bible (Zondervan; ISBN 978-0310438922)
The #1 bestselling study Bible in the world's most popular modern English Bible translation—the New International Version. This best-loved NIV Study Bible features a stunning four-color interior with full-color photographs, maps, charts, and illustrations. Over 20,000 study notes, with icons to make important information easy to spot. Introductions and outlines provide valuable background information for each book of the Bible. In-text maps, charts, diagrams, and illustrations visually clarify the stories in the Bible. [MOREINFO]
ESV Study Bible (Crossway; ISBN 978-1433502415)
The ESV Study Bible was created to help people understand the Bible in a deeper way–to understand the timeless truth of God's Word as a powerful, compelling, life-changing reality. To accomplish this, the ESV Study Bible combines the best and most recent evangelical Christian scholarship with the highly regarded ESV Bible text. The result is the most comprehensive study Bible ever published–with 2,752 pages of extensive, accessible Bible resources. [MORE INFO]
BIBLE VERSIONS
English Standard Version—an "essentially literal" update of the widely used Revised Standard Version.
New International Version — a standard translation using universally used English (thus, "International").
New Living Translation—an easy-to-read thought-by-thought translation from Hebrew and Greek.
King James Version—the classic 1611 translation. A landmark in English literature, but far removed from contemporary English.
New King James Version—a very literal translation, updating the language of the King James Version.
Common English Bible—a translation blending word-for-word and thought-for-thought approaches.
New American Standard Bible—widely seen as the most literal translation produced in the 20th century.
The Message—a free translation by Eugene Peterson using everyday modern English, idea for idea.

Back in the 1980's when software developers began putting the whole text of the Bible into applications that allowed you to search and analyze the biblical text, it was the beginning of a revolution. Then they added different translations, then Hebrew and Greek texts, then commentaries, dictionaries, and other reference works. Today, a full-featured Bible software solution allows the student of the Bible access to hundreds of resources, and allows the scholar to do sophisticated analysis of the Bible in its original languages.
If you want something simple, no problem. These software applications can be purchased in modules. So one can start inexpensively, and only add tools if you need them. And now there are apps for smartphones and tablets both in the Apple and Android platforms. We highlight here two of the most popular and extensive Bible software products. The best way to understand them is to go to their sites and poke around.

Bible encyclopedias, like Bible dictionaries, have thousands of articles on the people, places, books, ideas, and other details within and about the Bible. Presumably because of printing costs and the prevalence of digital Bible tools, most of the standard Bible encyclopedias are out of print. Some can be purchased as eBooks, and some are bundled in Bible software packages. One classic encyclopedia is:
The Zondervan Encyclopedia of the Bible (ISBN 978-0310241362) a revised five-volume edition providing up-to-date entries based on the latest scholarship. Beautiful full-color pictures supplement the text. Different viewpoints of scholarship permit a well-rounded perspective on significant issues relating to doctrines, themes, and biblical interpretation. [MORE INFO]
[See chapter 12, "The Meaning of Specific Words" in How to Study the Bible: A Practical Guide]
The New Bible Dictionary (ISBN 978-0830814398) is a reference work ideally suited for people of all ages and backgrounds. This magnificent and comprehensive Bible has set the standard for evangelical Bible dictionaries for five decades. Now in its third, updated edition, it is the clear leader in its field. The third edition is an important step forward in bringing this classic work up to date with the latest developments in biblical studies, ancient Near Eastern studies and archaeological finds. [MORE INFO]
Nelson's Illustrated Bible Dictionary: New and Enhanced Edition (ISBN 978-0529106223) is one of the most comprehensive and up-to-date Bible dictionary available. With a fresh new look and updated photographs, this new and enhanced edition is a wealth of basic study information with more than 7,000 entries plus more than 500 full-color photographs, maps, and pronunciation guides. Features include: cross-references to major translations, more than 7,000 up-to-date entries, more than 500 full-color photographs and maps, enlarged type size for easier reading, visual Survey of the Bible from The Open Bible. [MORE INFO]
Zondervan Illustrated Bible Dictionary (ISBN 978-0310229834) provides a visually stimulating journey for anyone interested in learning more about the world of the Bible. Through the articles, sidebars, charts, maps, and full-color images included in this volume, the text of the Old and New Testaments comes alive. Contains over 7,200 entries, 500 full-color photographs, charts, and illustrations, 75 full-color maps, and a Scripture index. For the general reader of the Bible, pastor, or student. [MORE INFO]
The Baker Illustrated Bible Dictionary (ISBN 978-0801012976). This comprehensive dictionary intends to help people read the Bible with increased understanding and confidence. It contains articles on major topics as well as places and people, even if they just appear in a single verse in the Bible. Its articles cover theological topics, biblical words, biblical imagery, and historical topics. This A to Z dictionary includes more than 1,700 full-color pages, 400 color illustrations, maps, and photos, 5,000 articles by leading evangelical scholars. This is an informative, colorful, and easy-to-understand resource that will be an indispensable reference for your own personal study or in preparation for teaching. [MORE INFO]

[NOTE- This section will be updated in the future with additional entries. Sign up for updates above.
Very important – see chapter 17, "Using Bible Commentaries" and chapter 11, "Studying a Particular Bible Passage" in How to Study the Bible: A Practical Guide]
There are many, many commentaries to choose from. One-volume commentaries (top of the list below) are good to have at hand in order to get a quick and brief explanation of a passage. But commentaries dedicated to single books of the Bible will have much greater detail (these commentaries are sometimes in sets or series, or sometimes stand-alone books).
To read about all the best commentaries available, there are two excellent guides: Tremper Longman's Old Testament Commentary Survey, 2nd edition (Baker) and D. A. Carson's New Testament Commentary Survey, 4th edition (Baker).
Here are some excellent one-volume and multi-volume commentaries:
New Bible Commentary (one volume; InterVarsity; ISBN 978-0830814428) For 40 years, the New Bible Commentary has set the standard for works of its kind. Now in this completely revised fourth edition (including over 80% new and updated material), the New Bible Commentary is positioned to maintain its standing as the leading one-volume commentary on the whole Bible well into the 21st century. This readable and accessible volume brings together many of the finest scholars of our day to meet the needs of students, teachers and Bible readers. The 21st-century edition of the New Bible Commentary offers 66 solid, concise, evangelical commentaries–one on each book of the Bible. These detailed (passage-by-passage or verse-by-verse) commentaries, based on the NIV text, are accompanied by introductory material on date, authorship, purpose, key themes, outlines and discussions of recent developments in biblical scholarship. In addition seven articles overview biblical history and types of biblical literature, including the Pentateuch, poetry, the Gospels, the Epistles, and the Apocrypha and other apocalyptic writings. [MORE INFO]
The Bible Speaks Today series (Editors, Alec Motyer, John Stott, Derek Tidball). This series includes dozens of paperback books that speak through biblical books, not so much to get at the academic details, but to describe the message of each biblical book. They focus on the message, including real-life application. Each book in The Bible Speaks Today series is entitled, The Message of…. For instance The Message of Ephesians by John Stott (ISBN 978-0877842873) or The Message of Revelation by Michael Wilcock (ISBN 978-0877842934).
The Expositor's Bible Commentary – Abridged Edition: Two-Volume Set (2 volumes; ISBN 978-0310255192). When you want to dig more deeply into the meaning of God's Word, a good expository Bible commentary is ideal. You want more than a simple, one-volume commentary that just scratches the surface. But you don''t want a time-consuming multi-volume set laden with fine points you can''t use. The Expositor's Bible Commentary Abridged Edition is tailor-made for you. Based on the critically acclaimed Expositor's Bible Commentary used by pastors, students, and scholars across the world, this two-volume abridged edition offers you the full, penetrating, verse-by-verse commentary of the 12-volume series while leaving out needless technical details. Marshalling the knowledge of fifty-two top biblical scholars, it brings tremendous insight to your Bible studies. Covering the Old and New Testaments in separate volumes, this commentary features: • Verse-by-verse exposition of the entire Bible, • 250 in-text charts, maps, tables, and pictures, and more. [MORE INFO]
Expositor's Bible Commentary—Revised
Eight-Volume Old Testament Set (ISBN 978-0310491989)
Five Volume New Testament Set (ISBN 78-0310491972)
Based on the original twelve-volume set that has become a staple in college and seminary libraries and pastors' studies worldwide, this revised edition of The Expositor's Bible Commentary series once again gathers the most current evangelical scholarship and resources. Its fifty-six contributors, thirty of whom are new, represent the best in evangelical scholarship committed to the divine inspiration, complete trustworthiness, and full authority of the Bible. This pack includes the 8 volumes covering the Old Testament; 5 volumes covering the New Testament are also available. The thoroughly revised features include: comprehensive introductions, short and precise bibliographies, detailed outlines, insightful expositions of passages and verses, overviews of sections of Scripture to illuminate the big picture, occasional reflections to give more detail on important issues, notes on textual questions and special problems, placed close to the texts in question, transliterations and translations of Hebrew and Greek words, enabling readers to understand even the more technical notes, a balanced and respectful approach toward marked differences of opinion.

CONCORDANCES –
Look up "baptism" in a concordance, and you will find a list of the Bible verses where that word appears. This is a basic way to understand the meaning of a word (see chapter 12, "The Meaning of Specific Words in the Bible" in How to Study the Bible: A Practical Guide). An "exhaustive" concordance will have absolutely all the verses. With the ability we have today to go online and use a site like BibleGateway.com, or to use Bible software, fewer people use print concordances. Be aware that concordances show you the verses of where your word appears in one particular translation. Online sites like BibleGateway.com allow you to search on the basis of particular translations (many non-English). Also, be aware that the idea you are pursuing may be found using other similar words (like righteousness, righteous, justification, justify, etc.).
BIBLE READING PLANS –
Read the Bible in a year, or in three years, or in 90 days. It is up to you. You will find many different plans at BibleGateway's Reading Plans webpage.
ATLASES –
Maps are a great way to visualize the Bible narrative and to see historically important details. The Moody Atlas of Bible Lands, for instance is a great tool.