(One of the truly great examples of people putting faith into action in a big way is the work of International Justice Mission and its founder, Gary Haugen. Every interaction I have had with their staff has been truly encouraging. 600 brave advocates work today around the world on behalf of people who cannot speak up for themselves. Today Gary's new book, which holds the potential of being a game-changer on the topics of poverty and violence, is out. All author royalties go to the work of IJM. And this week only, $20 is being donated to the work of IJM with every copy sold.)
Reading The Locust Effect: Why the End of Poverty Requires the End of Violence seemed like an exercise in moral obedience.
It is never easy to read about the victims of modern slavery, sexual exploitation, and travesties of justice–but the clear-headed analysis and authority of The Locust Effect demands a careful reading.
Gary Haugen (founder, International Justice Mission, and Director of the U.N. investigation in the aftermath of the Rwandan genocide) and Victor Boutros (investigator with the U. S. Department of Justice) serve readers well in several respects: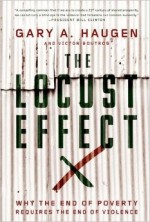 Vivid story-telling of the many faces of injustice in the developing world today.
Carefully-researched information that reveals the stark realities of most of the world's population living with virtually no protection of the rule of law.
A seminal idea: that any informed discussion of global poverty must include the role of everyday violence that is virtually unchecked against people who have no way to defend themselves.
Hope. The authors describe how advanced countries like the U.S. had as few justice social structures in the 1800's as many developing countries have today, and yet forms of criminal justice were developed in the U.S.
The Locust Effect does not offer easy solutions for the world, but real examples where violence has been curtailed by reforms in criminal justice.This is an important book. It makes you shake your head in disbelief: accused people languishing in prison for years awaiting trial; judges with no legal training; the poor who will never ask for police assistance because they will become victims of police abuse; courts that shut down because they run out of paper (!); It goes on and on.
The book left me wondering about the mystery of evil, and indignant about the evil of personal violence. In the book of Genesis God, "your brother's blood cries to me from the ground." The question is, do we hear the cries?
What does the Bible say about violence?