"When your days are over and you rest with your ancestors, I will raise up your offspring to succeed you, your own flesh and blood, and I will establish his kingdom. He is the one who will build a house for my Name, and I will establish the throne of his kingdom forever." 2 Samuel 7:12-13
Little George was eight pounds, six ounces when he was born in the summer of 2013. His father is a helicopter pilot for the Royal Air Force of Great Britain. His mother was an art history major at the University of St. Andrews when she met her husband-to-be. Little George's great-grandmother is the Queen of England.
People started calling him the future king of England right away, though preceding baby George in line to the throne is his father, Prince William, and William's father, Prince Charles. Bells rang out in London and around the country upon news of the birth. A famous composer created a royal lullaby. Commemorative coins were issued by mints in England, Australia, and Canada. He embarked on his first royal tour when he was nine months old.
His official title is His Royal Highness Prince George of Cambridge. Like other babies, however, he wears diapers and spits out his baby food.
These are the trappings of dynasty, an important and unifying feature for most people living in the United Kingdom. For the majority of the world, the days of kings and queens are long past. But in biblical times dynasties were important— none more so than the dynasty of King David.
God made it so. The prophet Nathan delivered to King David an important message at the high point when David was seated in the new capital of Jerusalem. "I took you from the pasture, from tending the flock, and appointed you ruler over my people Israel…. I will make your name great…. And I will provide a place for my people" (2 Sam. 7:8-10).
This was a different kind of kingdom and a different kind of king. The shepherd- king was to be submissive to his God and a servant to his people. Love, care, and protection were on the agenda of this government that was destined to become a dynasty.
Centuries later, Jesus, the Son of David, came to establish that eternal kingdom. This dynasty is different from all others because it is based on the covenant and the promise of God.
PONDER: Take a minute to read Psalm 23 and think about what brings you confidence in saying "The LORD is my shepherd."
* * *
• SHEPHERDING TODAY •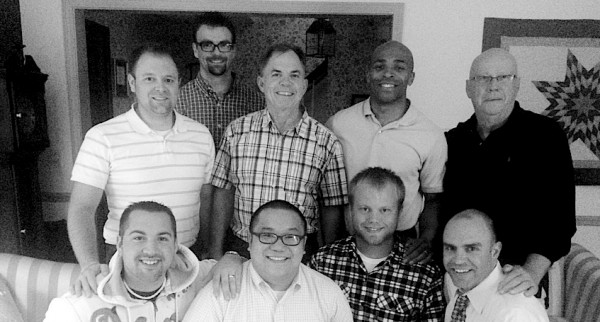 In October of 2012, I received an unexpected email from Bruce, a man I had never met. The email invited me to consider applying to be a part of a men's mentoring group with him and his friend Lee. The qualifications were quite specific, and it was made clear that this was serious. The emphasis of this group would be reading, discussing, and Scripture memory in the areas of leadership, marriage, fatherhood, and more. Heidi and I decided that this opportunity to grow alongside other men and under the leadership of wiser and older believers would be too good to pass up.
The group of 10 men met for the first time in February of 2013, and it was unlike anything I have ever experienced. We were asked to write a brief history of our lives, including our family background, our proudest achievements, our struggles with sin, and our honest hopes for this group. I honestly thought I had a solid five minutes of material. The first guy shared and absolutely tore down any false pretenses. I soon followed, scrambling to finish as the stopwatch announced my time was over. Somehow, a group of 10 men managed to talk for five hours that day. No TV. No music. We just talked and prayed and grew together.
Since the first gathering of this mentoring group, we have dug deep into personal issues that often go unaddressed. We have wrestled with the scars of our past and fears of our future. We have read 15 books, memorized 30 Scripture verses, prayed through unemployment, new jobs, deaths in the family, and additions to families! We often struggle with our monthly homework, but we are growing closer to each other and closer to Christ…all because two shepherds took seriously the call to care for God's sheep.
Ben Williams
Note: Bruce and Lee (yes, that's Bruce/Lee) got the idea for this group from the ministry Radical Mentoring. More about Lee's ministry, Brook Link)
Note: This is worth reading: A Call to Seasoned Ministry Leaders. This call was written as a response to a consultation convened by the Lausanne Movement in Madison, WI in July of 2012, where 120 younger Christian leaders and 10 mentors from across North America gathered to discuss a number of issues facing the Church today. One of consultation's 10 sub-groups, "Developing Christ-Centered Leaders," spearheaded this document on mentorship.
* * *
FAMILY TALK
Have you ever made a family tree? Family trees depict the different members of your family. God gives us his family tree through Scripture. In 2 Samuel 7:12-13, we read about David's family tree, which eventually leads to Jesus. Whether we can trace our earthly family tree back one generation or 100 generations, each of us also has another lineage in Christ. When we put our trust in him, we become part of his family and our names are written in his Book of Life.
Talk as a family about your family tree and name as many relatives as you can. (If you have time, try to draw a family tree.)
Read 2 Samuel 7:16, Psalm 89:34-37, and Jeremiah 33:17. God established his kingdom on earth through Jesus. When we put our trust in Jesus, we become part of God's family. Who do you know who is part of God's family?
Krista Heinen