Immediately they left the boat and their father and followed him. Jesus went throughout Galilee, teaching in their synagogues, proclaiming the good news of the kingdom, and healing every disease and sickness among the people. Matthew 4:22-23
Twenty million emails were written in the time it took to read this sentence. That's a lot of words. We live in a world where information and words can invade and clutter our lives through tweets, text messages, Facebook posts, emails, and countless other media.
Jesus' days were much less cluttered with words. Yet he had something to say. He proclaimed powerful, truthful, life-changing words. He also performed amazing deeds that healed and restored lives. Jesus' words and his actions were not only life-giving, they were also the embodiment of something huge and real: the kingdom of God.
In Matthew 4:19, Jesus' call to his first disciples—"follow me and I will send you out to fish for people"—has a hint of the changes in store for them, changes that would impact their sense of identity and place in the world. As Peter, Andrew, James, and John left their boats and families to follow Jesus, Matthew records that Jesus then went throughout the region of Galilee proclaiming "the good news of the kingdom," the "good news" that God's saving reign had broken into human history through him, the promised Messiah.
Throughout his narrative, Matthew portrayed the kingdom of God in varied ways: God's kingdom is his sovereign rule over all of creation. In Jesus, God's kingdom has been inaugurated and will one day be consummated. The kingdom of God is mysterious. It begins small and is barely noticed, like a mustard seed in the ground. The kingdom of God belongs to all those who put their faith in Jesus—both Jew and non-Jew. The kingdom of God points to a new creation where sin, disease, and affliction no longer exist. We have evidence of the new creation ahead whenever encounters with Jesus lead to healing or life change. The kingdom is all about humility and childlike faith. And there is more.
Jesus' proclamation of the kingdom in his words, and his demonstration of it in his works of healing, show that he loves human beings in their totality—mind and body, soul and spirit. Followers of Jesus are people of his kingdom, called to love their neighbors both in word and deed.
PONDER: How do your actions and words show love to those you encounter?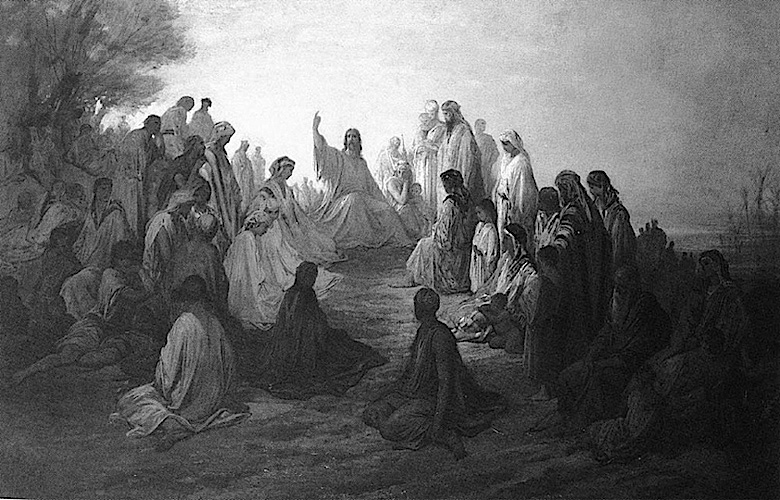 * * *
• RETHINKING HOW WE PRESENT THE GOSPEL •
by Frank Viola
The gospel of Jesus Christ is the same yesterday, today, and forever.
However, I believe the way that the gospel is presented should differ depending on the people with whom we share it.
This requires sensitivity to the Spirit and attention to the person's heart. Jesus Christ didn't present Himself the same way to everyone.
To some, He warned. To others, He rebuked. To some, He showed compassion and mercy. To some, He asked questions or told parables, etc.
Here are several things to keep in view when speaking about Jesus:
Try to listen intently to the person and ask them questions. Listen outwardly.
Try to be sensitive to the Spirit while talking to them. Seek to discover what God has already done and is doing in their heart. Listen inwardly.
 Look for an opportunity to allow the love of Christ to bleed through in their circumstances. Embody the gospel.
Never view an individual as a project, but as a person. A fellow human being. No more or less deserving than myself. The attitude is that of one beggar telling another where to find bread.
The goal is never to "close the deal." (As a young believer, I thought that was the name of the game and did some damage as a result.) The goal is to be obedient to the Lord in the moment. The results are with him. And sometimes they don't show up for years. In fact, you may never end up seeing them in this life.
Keep in mind also that one of the greatest testimonies to the world that Jesus of Nazareth is indeed who He claimed to be is when His people love one another visibly (John 17).
Like the pagan of old once said upon observing the Christians, "Behold how they love one another." May it be so again . . .
Adapted from the blog of Frank Viola. Used with permission.
* * *
FAMILY TALK
Through Jesus the kingdom of God came to humanity. Everywhere Jesus went he showed us glimpses of the restoration that will come when the kingdom of God is fully consummated. We too are members of this kingdom. We can help spread the kingdom through the ways we love in words and actions.
Read Matthew 4:22-23 and Matthew 22:36-40. In Matthew 4, Jesus calls his disciples. What was the mission he called his disciples to? How can Matthew 22 help us understand what Jesus is calling us to? Who is someone in your life whom you can love through your words and actions this week? How does loving others help them understand more about God?