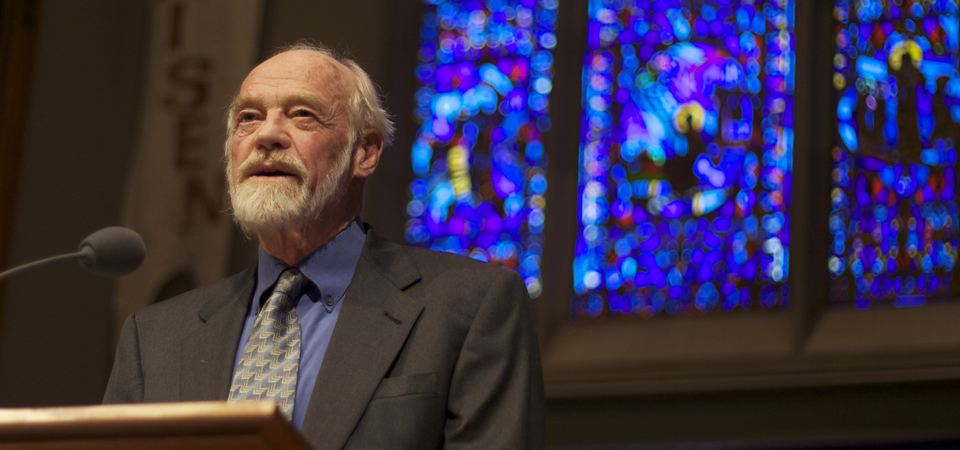 In part 1 of this interview, Eugene Peterson discusses his newest book, The Pastor: A Memoir. He talks about the impact a pastor had on his life at a young age and how that experience shaped his desire to go into vocational ministry. You don't get to choose your congregation, he says of his first years as a pastor, but you take what's given to you. As a pastor, you must go beyond providing a place to worship and form a community. "Suburbia is a very non-community place," he says, where people double-lock their doors and fence their yards. It's in this landscape of consumerism and independence that Peterson has gained his experience in ministry and was inspired to finish a complete translation of the Bible into contemporary English, The Message.
Continue to Part 2 of this Interview
About Eugene Peterson
Eugene Peterson, translator of the multi-million selling contemporary English version of the Bible, The Message, spent 29 years in the pulpit, 20 years as a professor, and has written 30 influential books on church, spirituality, and the Bible. Now, in his latest book, The Pastor: A Memoir, he recounts his "haphazard" formation as a pastor. He also challenges the church-as-business model, and laments the pastorate as "a way of life that is in ruins," corrupted by the "strategies of religious entrepreneurs with business plans."
Peterson is professor emeritus of spiritual theology at Regent College in Vancouver, British Columbia, and the author of over thirty books, including The Jesus Way, Practice Resurrection, and A Long Obedience in the Same Direction. He and his wife Jan live in Montana.