His intent was that now, through the church, the manifold wisdom of God should be made known to the rulers and the authorities in the heavenly realms, according to his eternal purpose that he accomplished in Christ Jesus our Lord. Ephesians 3:10-11
"One morning I shot an elephant in my pajamas. How he got into my pajamas I'll never know."
Groucho Marx reminds us that language is a funny thing. If we're not careful, we might miscommunicate in humorous or unpleasant ways.
For instance, did you know that punctuation can save lives? "Let's eat Grandpa" is transformed by the addition of a comma to the much more palatable "Let's eat, Grandpa."
Second Timothy 3:16 teaches that the entire Bible is God-breathed. In other words, nothing is missing from the Bible, and every word in it is there by God's design. The passage goes on to tell us that we profit when we learn from the Bible and when it rebukes and corrects us. Thus, we should pay attention when a portion of Scripture contains a single word that revolutionizes our understanding of our faith.
Ephesians 3 contains one such word. Today we don't typically use the word manifold in the course of daily life. The word means "multicolored." Re-read the passage above from Ephesians, but this time replace manifold with multicolored. All of a sudden, the passage takes on new meaning, especially if you live in a country still suffering from the success of Satan's schemes to divide humans from one another on the basis of skin color. It now becomes clear that Paul makes two promises. First, truly multiracial churches are one of the accomplishments Jesus won for humanity by his perfect life, death for our sins, and glorious resurrection. Additionally, when the local church embodies God's multicolored wisdom, it is such a remarkable demonstration of the power of the gospel that we teach angels and demons about the completeness of Christ's victory. However, when we, the body of Christ, willingly segregate ourselves into uniracial factions, we do not fully live out God's plan for us. Furthermore, we miss out on the opportunity to teach those in the heavenly realms, as well as people here on earth who are in desperate need of salvation, just how transformative the forgiveness of Christ is.
PONDER: Do you currently have any close friendships with people of another race? If not, ask God for opportunities and be intentional in your life decisions.
 * * *
Transformed by Intercession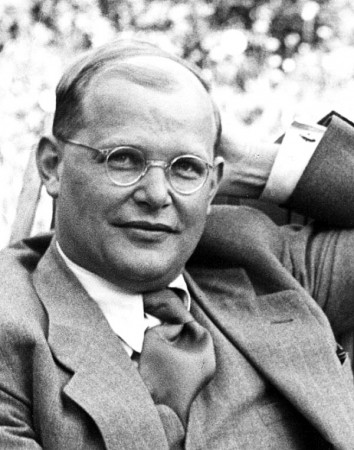 A Christian fellowship lives and exists by the intercession of its members for one another, or it collapses. I can no longer condemn or hate a brother for whom I pray, no matter how much trouble he causes me. His face, that hitherto may have been strange and intolerable to me, is transformed in intercession into the countenance of a brother for whom Christ died, the face of a forgiven sinner. This is a happy discovery for the Christian who begins to pray for others.
Dietrich Bonhoeffer, Life Together
Dietrich Bonhoeffer was a German pastor, theologian, and anti-Nazi dissident who was executed by hanging on April 9, 1945, as the Nazi regime collapsed, just two weeks before Allied forces liberated the camp and three weeks before Hitler's suicide.
Comments welcome below.
Past days' readings HERE.
To receive RECONCILE and later Elmbrook devotionals in your inbox, sign up HERE.